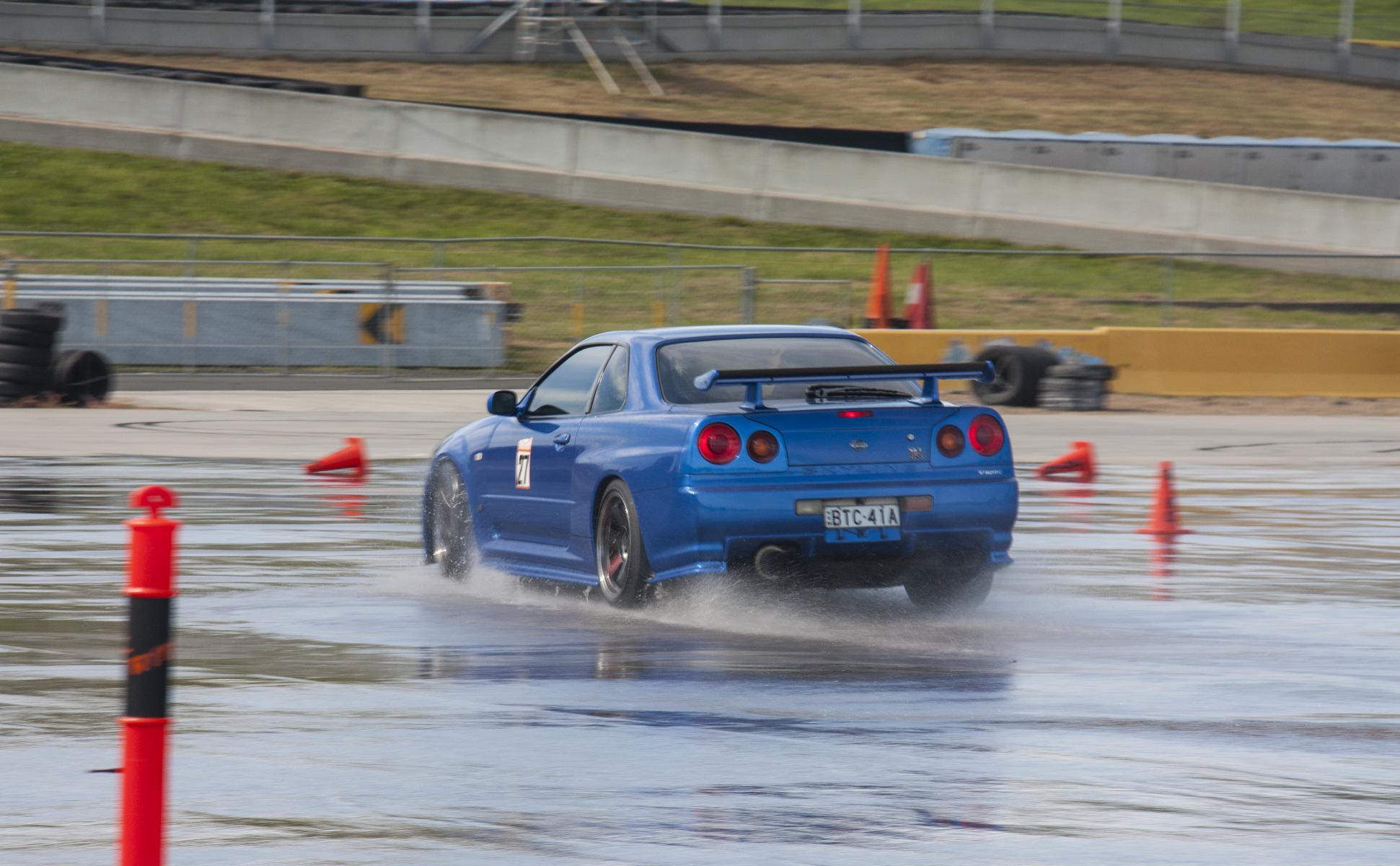 Well what a busy start to the year we have had. As such this has been my first chance to get onto writing up a report on our events.
Round 1 started out with some nerves on our behalf, we were trialling a new traffic light system for starting. But if there was something to put those nerves to rest, was we had the gods with us in the form of a full sun and empty sky. As scrutineering was being completed it appeared we had an influx of new competitors and a few of our regulars had chosen to sit out due to the Interclub supersprint being held the next day. Little did we know that some of the new drivers had a bit of skill up their sleeves. A new car on the scene, a stickered up little Honda civic pivoted on a dime and found itself in the top 5 by the end of the day. The volunteers had it tough, a gale force wind trying to rip down their tent and trying to lower their body temperatures! The day took a sour turn as a very unusual storm rolled through and gave us all a little fright.
Round 2 mirrored round 1. The weather was awesome and we once again had some new cars. The traffic light system was well and truly in full swing and from all reports the competitors have loved its inclusion. As our club evolves the live timing setup is also becoming more and more embraced. Allowing competitors to check their standings as the event goes on. Once again Rob Benkovich was to pull ahead and take the cake, but from the times it would appear as if a few of the other regulars are slowly sneaking up on him. We shall see....
RTDC is all about family and when one of your family suffers, you do what you can to help. In November 2016, during one of our many committee meetings, it was decided that we as a Not-For-Profit car club should pledge donations to 2 Not-For-Profit charities. In this way we hope to help others who are in need, and who knows there may even be a few car nuts among those suffering. The club hopes to make this an annual donation so we can support these great causes, and would really appreciate our members and families to have a read of these charities and make a donation where they can.
Cure Angelman Syndrome -
$500
Angelman Syndrome (or AS) is a neurodevelopmental disorder affecting approximately 1 in 15,000 live births.
Although the cause of AS is known, there are currently no treatments available for this disorder. Angelman Syndrome (often abbreviated AS) is a severe neurological disorder characterised by profound developmental delays, problems with motor coordination (ataxia) and balance, and epilepsy.
Individuals with AS do not develop functional speech.
The seizure disorder in individuals with AS can be difficult to treat. Feeding disorders in infancy are common and some persist throughout childhood. Sleeping difficulties are commonly noted in individuals with AS.
Angelman Syndrome affects all races and both genders equally.
Individuals with AS tend to have a happy demeanour, characterised by frequent laughing, smiling and excitability. Many individuals with AS are attracted to water and take great pleasure in activities like swimming and bathing.
People living with AS require life-long care, intensive therapies to help develop functional skills and improve their quality of life, and close medical supervision often involving multiple medical interventions. Angelman Syndrome may be misdiagnosed since other syndromes have similar characteristics.
Angelman Syndrome is a genetic-based disorder resulting from the loss of function of the Ube3a gene in the brain. Loss of the UBE3A enzyme produced by this gene prevents neurons from functioning correctly, leading to deficits in learning and memory. Importantly, loss of UBE3A does not appear to affect neuronal development, indicating that neurons could function normally if UBE3A function is restored.
Steven Walter Children's Cancer Foundation -
$500
The Steven Walter Children's Cancer Foundation (SWCCF) originated in 2001 as the Steven Walter Fund and was incorporated in March 2008 as part of a strategic plan to develop a significant long term fundraising capacity to benefit childhood cancer research in Australia. The origins of SWCCF lay in the wishes of Steven Walter, a young man who died in 2000 at the age of 19 after an 8 year fight against cancer. In his final days Steven wrote a powerful letter to his family and friends asking them to raise money for childhood cancer research "so that one day no other kid would have to go through what I've been through".
SWCCF is committed to fundraising partnerships offering financial support for vital research so that every child with cancer can be guaranteed a future and an improved quality of life.
Since 2000, the Foundation has been committed to raising funds for much needed and vital cancer research, supporting the provision of a full range of clinical services to patients, tertiary care and health promotion and prevention programs for children and adolescents.
For every 10 children diagnosed with cancer, three do not survive and here in Australia, that translates to three children losing their lives to cancer every week. We believe that is three children too many. Of those children who survive, many will have chronic health problems as a direct result of their treatments.
There has been significant improvement in the life expectancy of children post diagnosis, however research and clinical trials are essential to ensure we are continually moving forward toward our goal of 100% survival for ALL children.